[ Sunday, January 23, 2005 ]
Clutterbuck Computer Clutter Challenge round 2
Starbuck [18:30] Comments: 0 []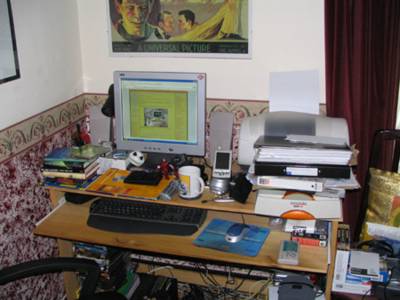 I am pleased to announce the first (and only) entry in the (probably shortlived) Clutterbuck cluttered computer desk challenge. Many thanks to the mighty

Astolath

of Cyber-Satan fame for his workstation photograph, reproduced for your delectation over there to the right. I felt it was an especially nice touch him having the image of

my

workstation on

his

screen.

However, despite the spaghetti-nature of the wiring beneath his desk and the tower of random "stuff" perched precariously to the right of the table, as the unbiased and impartial referee of the competition I must say that the level of tat still does not reach the heady heights of my own disgraceful desk...

---
0
---
[ Click

HERE
for the VSX front-page... ]

[ Previous Posts ]
The wedding gift list - commercialistic crack for ...
Team America: World Police
Clutterbuck
Concentration test for men
Swimsomniac
All gone a bit Darko
Digital spy
Freedom to disagree - Jerry Springer The Opera
Smoke signalled tears of sadness to my blogroll
Google Suggest
[ Full Archives ]




[ Photowankery ]