[ Tuesday, January 27, 2004 ]
Second-hand links
Starbuck [19:37] Comments: 0 [] A cut above the usual What Blah-Blah Character Are You web quiz meme is What Pre 1985 Video Game Character Am I?. Very accurate....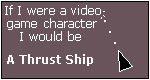 I am a Thrust-ship.


I am small and tricky - where you think I am, I probably am not. I can work very fast, but I tend to go about things in a round about way, which often leaves me effectively standing still. I hate rocks. Bloody rocks.




Thanks to Billy for the link.

---
0
---
[ Click

HERE
for the VSX front-page... ]

[ Previous Posts ]
Top-Up Fees
I'm a celebrity lookalike get me out of here
Slightly queezy...
Site news
Beadle, Kelly, Kelly, Kennedy & Lee - Lords of Dar...
Not to be used whilst driving or operating heavy m...
Shameless on Channel 4...
"Wildlife is wonderful. We don't need any other ex...
# We saw shadows of the morning light, the shadows...
Rabbit, rabbit, rabbit, Hutch
[ Full Archives ]




[ Photowankery ]