[ Tuesday, February 01, 2005 ]
Clutterbuck Computer Clutter Challenge Round 4
Starbuck [19:44] Comments: 0 [] Well, there's been a whole lorra controversy in the Comments section following Lawn Greengrass' submission to the Clutterbuck Computer Clutter Challenge. Eagle-eyed & boffin-brained readers have suspected foul play, figuring that a spacehopper, three bogrolls, an iron, a kettle, a sunflower, a paint pot, a wooden pig, and what looks like a pair of slippers might not normally constitute Mr Greengrass' habitual workspace environment. So the competition goes on, with heavyweight double-punch submissions coming in over the weekend from the Saturnyne and Nice Guy Rob.

First up,

the Saturnyne

, lucky owner of two messed-up PC's.

Looking closely, Mr S' main PC over on the left does indeed seem to house a fair wealth of junk - CD's, DVD's, floppies, books, MP3 player, WD40?! - but there's still a semblance of sanity on there. A good collection of books above his second PC (on the right) including wordy masterpiece Mr Impossible, and a fair cluttering of tat across the workspace, including what looks suspiciously like an old Christmas card and some crinkly tissues. Good attempt, Saturnyne, but just a little too stylish-looking to be in with a chance. Frankly I'm jealous.



Hot in his heels comes

NGUK Rob

's impressive array of workstations.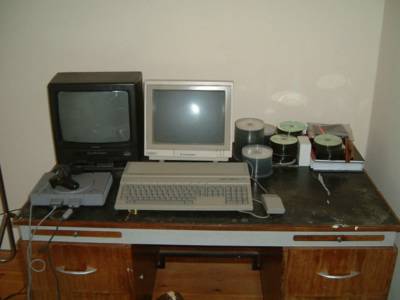 To your left you see his first desk, containing an Atari Falcon (plus monitor) and Playstation (plus telly), which, when combined with what I estimate is 500 recordable CD's, creates quite a hardcore piece of ordered clutter.




Below that lies his Mini ITX PC, mini hifi and a not-so-mini penguin. Cup, Pringles tube, lottery ticket, phone, plus what looks like Orac from "Blakes 7". Not the messiest of desks, but the message on the monitor has quite unfairly shot him into the lead...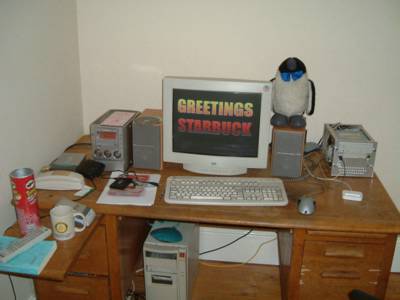 ---
0
---
[ Click

HERE
for the VSX front-page... ]

[ Previous Posts ]
Advice to the newly engaged
Spend-free Sunday
Clutterbuck Computer Clutter Challenge round 3
Clutterbuck Computer Clutter Challenge round 2
The wedding gift list - commercialistic crack for ...
Team America: World Police
Clutterbuck
Concentration test for men
Swimsomniac
All gone a bit Darko
[ Full Archives ]




[ Photowankery ]