VSX, A shadowy flight into the dangerous world of a man who does not exist: Starbuck Powersurge - a young loner on a crusade to champion the cause of Viper Squad Ten, a long-disbanded group of stranded timetravelling troubadours, formed to help finance repairs to their time-machine. Now very much stuck in C21...

Sometimes guest editors: Mr Stu and DJ Tim.




[ Archives ]




[ Recent Posts ]

Dexter Season 4 finale review
Now that's magic!
Inception
I did this!
Frank Sidebottom RIP
Lost - The End - an atheist's viewpoint
Viper Squad Ten - the return
[breath drawn]
[rib cage expands outwards]
[intercostal muscles contract]



[ Contact ]

As You'd Imagine
@gmail.com


[ Hyperlinks ]





[ Comments ]



Click on a post's Comment link to view or add Readers' Comments. No purchase necessary. (Click [!] for backup Haloscan Commenting).




[ Search ]







[ Site Feed ]



Atom




[ Copyright ]



All text is copyright the Viper Squad Ten blog team 2003-2006 unless otherwise quoted or credited. If we've not credited you properly, please let me know. Throw us a link if you're desperate enough to use this guff...




[ VSX Latest ]





[ Thursday, September 30, 2004 ]
# In no man's TV-Land #
Starbuck [22:32] Comments: 0 [] Four reasons why Five's The Farm doesn't work well as a "reality" TV show:

1 - The theme music - rrrrubish!
2 - The "celebrities" - very low-grade. It says alot that their line of "work" has to be so explicitly highlighted upon their first mention in a show

("Very occasional TV presenter Jeff Brazier" - who?)


3 - Ed Hall is doing the voiceover.
4 - The sight of Footballer Stan Collymore masturbating a pig. TRAUMA! TURMOIL!

(Make your own piss-poor "dog" and "colly" jokes please)


5 - Rob Van Winkle aka Vanilla Ice. An unwatchably arrogant, lazy, childish, and uneducated jock (not the Scotts variety). My proxy-pet dog has a broader world view than this uninformed piece of Fox-news effluent. A scumsucker, despite his Jimmy Hill-style chin - never has a sharper chin cradled a rapper's face!

One reason why there's hope for it:

The Iceman is really pissing the rest of the "farmhands" off...
---
CBS news
Starbuck [21:55] Comments: 0 [] Dave Clear Blue Skies is back in the blogging saddle again, with some exciting news...

---
"I want to be a tree"
Starbuck [00:05] Comments: 0 [] I'm a couple of days back from a long weekend in the Lake District, though it wasn't flicking long enough that's for sure - and I'm sure that a couple of weeks have somehow bled across into the two oh-so-busy days at work.

Still, the holiday has left me feeling extremely reeeeeeeeeeeeeeeeeellllaxed... zzzzzz.... grunt.

It was just what I needed. Just myself and my girlfriend and the most amazing scenery (oh, and endless stomach-fulls of good food and ale). And now, if I shut my eyes or pause my mental stream for just a few moments then I'm straight back there, as clear in my mind's eye as when the photons were carressing my retinas. I see wild fells and quaint villages, cloud-topped mountains and mist-shrouded valleys, I see winding turbulent streams and lakes stretching to vanishing point, weatherbeaten brown bracken and hardy trees (ah, the bracken and the trees - we were lucky to visit Lakeland just as Autumn was wreaking its changes across the flora, treating us to a mosaic of colours worthy of Monet). I see rocks strewn across valleys by the hydraulic forces of nature, and I see the spines of distant dry stone walls snaking like tree roots up and over mountaintops. I see cows and sheep. Oh yes, so many sheep - hopefully this'll help me with my sleep problems.

I've been to a lot of beautiful places in the world, but this holiday has brought home that you don't have to travel anywhere exotic to experience sights that can really match anywhere.

It's just a shame that so many people just don't open their eyes. Open yourself up to your surroundings - just stand there and STUDY your environs for minutes at a time - and you'll get some valuable insight about the world and your true place within it. Insignificance is bliss.

Just for the record, we based ourselves in Ambleside like the big tourists that we are, in a nice B&B within the sound of Stock Ghyll Force (which, for all you soft Southern shites, is Northern for "waterfall"), near the foot of Wansfell Pike. Walks included the aforementioned Pike (stunning panoramic views, including the full length of Lake Windemere), Ambleside to Grasmere via Loughrigg Terrace (click HERE if you are in the unlikely position of giving it a go yourself tomorrow), the incredible landscapes surrounding Blea Tarn, etceterbleedinra.

But enough of my weedy words - I'll throw you dogs a few photographic bones once they've been developed.

---
[ Thursday, September 23, 2004 ]
Shoot em all up
Starbuck [23:22] Comments: 0 [] VSX readers who have read too many of my words to be healthy will be well aware of my love of downloading free packets of heavenly pixel-spewing old-school shooter action over this old internet of ours. Let's face it, I've banged on enough about Tsunami 2010, Spheres of Chaos, Tumiki Fighters and Parsec47 over the years, not to mention Super Mario Pac!

So it was with mixed feelings that I saw at the start of the month an article in Edge magazine about DIY retro-style shooters and a veritable Treasure-trove of URL's to download them from. Excitement, but despair - I've just not had the time to check any of them out.

Which is where you come in. I'm going to be at a mystery location away from any form of computer for the next week or so. So if I provide the hyperlinks, then you, the massive VSX readership, can download the goodies and advise me which I should try upon my return. You can't say fairer than that. To be kind to gaijin readers, I'll start off with the Western batch.



---
[ Wednesday, September 22, 2004 ]
#Here comes the lard, short fat and wide#
Starbuck [13:31] Comments: 0 [] Weddings, eh? Dontcha just love them? Uncle Starbuck does, as attested by my Comments following my old friend Stu's wedding. It really was a lovely day, and I am happy to say that the only remnants of the alcoholic excesses are a disappeared knuckle (I've no idea how it happened, but one of my knuckles had sunk into its socket overnight!) and a badly aching arm.

I must say that the food at the reception was probably the most delicious that I've ever tasted - truly wonderful. Which might've been a problematic comparison last night, when a large proportion of my own-prospective wedding top-table high-tailed it to the venue where I myself am getting married next year, our mission to road-test a couple of the wedding menus.

Luckily you pretty much can't go wrong with a coke float, chicken kiev and chips, followed by a banana split...

---
[ Monday, September 20, 2004 ]
Flash Flash Revolution; Kemp
Starbuck [21:03] Comments: 0 [] I found my first conker

(horse chestnuts to those not in the know)

lieing on the ground today. A nice shiney round one; a potential sixer I'd say.

"Ahh"

, I breathed to myself,

"autumn is finally here"

. Aside from I didn't, obviously, as that would make me an incredibly twee individual; twee with a silent "t". However, I was immediately filled with the warmth of autumnal childhood nostalgia. Playing Conkers in the playground

(for those not in the know, a duel of sorts involving horse chestnuts threaded through with string)

, jumpers for goalposts and dog-shit on the knees, the joy of pretending to be eagles and robots during playtime, the hopeless anxiety of still not having done one's homework at bedtime on a Sunday night...

Not having a fellow conker-player to hand, I thought I'd turn to the interweb for an electronic version. Sorted - a link from

Milk and Cookies

. Bugger - it didn't work.

But what I did find, somehow, was a Flash version of Dance Dance Revolution, namely

FlashFlashRevolution

, which you can unsuprisingly play in your browser at

flashflashrevolution.com

. And its rather fracking nice, when both it and I are functioning as we should. I'm incredibly bad at the arcade version, losing all brain-limb coordination as soon as I ascend the podium, despite being a sheet-hot dancer in normal life (no, really), but there doesn't seem to be the same paralysing effects with finger-flicking within my hall-cupboard PC bolthole.

During my mission for Conkers-on-the-web, I also stumbled across something from the other end of the interactive website spectrum -

Ross Kemp's Staring Challenge

. I can't begin to tell you how much this made me laugh...

---
[ Friday, September 17, 2004 ]
# Stu's getting married in the morning #
Starbuck [20:53] Comments: 0 []

... and to celebrate, here's some photo's charting the key points in his life. Click to zoom.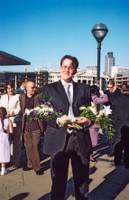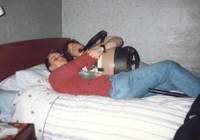 From the left: Stu's first experiments with make-up 12 years back; catching the bouquet at Jo & Rob's wedding - who could be next?; Erm, the least said about the last one the better - look, it was a long time ago, alright...

---
[ Thursday, September 16, 2004 ]
Shite Rider
Starbuck [19:02] Comments: 0 [] Message to the owner of UK car registration

"D4 FOX"

in case he happens by VSX...

GET OFF YOUR PHONE AND OUT OF MY ARSE, YOU COCKY GIT!


D4 Fox... what can it mean? Could it really have been Dr

"Neil" "Foxy" "not a real doctor"

Fox taking time away from his Harley Davidson? (Digression: the best motorbike song lyric ever is

"Harley... david... son of a bitch"

, courtesy of deceased Gallic rock legend Serge Gainsbourg; closely followed by Sheep On Drugs'

"Jesus on a motorbike"

. Too cool.)






Even more sadly, does the owner think of himself as

"Da fox"

? Da fox? Despite my personal dislike of them as a political entity, I'd be fully supportive of Da Countryside Alliance in their right to shoot his tires out!




Footnote:

During the making of this "article" I stumbled across something wonderful at Knight Rider Online -

SKAR's Hideout

, a forum where you can converse with an artificial "intelligence" based on SKAR (a fan-fiction character dreamt up by one of these nutters, itself being a reborn version of K.I.T.T.'s nemesis K.A.R.R.) A most entertaining read, if you like that sort of thing, you berk.

---
[ Wednesday, September 15, 2004 ]
Geeks 'R' Us
Starbuck [23:15] Comments: 0 [] You probably must be at least a tiny bit of a geek to be reading these words. Geekier than my Nan, anway. So I thought I should bring your rapt attention to Innergeek's

Geek Test

(as spotted round Billy's web-gaff).

However, I've not had time to partake in such geekery myself as yet in tonight's limited net-window - I've had much bigger fish of the Geekus family to fry. Namely, downloading

Firefox

1.00 Preview Release

. (Thanks to Aaron for alerting me to the existence of Numero Uno.)

That is all. Go and read some logarithmic tables or something.

---
[ Tuesday, September 14, 2004 ]
Heavy weather
Starbuck [16:07] Comments: 0 [] Not wishing to underplay the devastation and peril that inclement weather is causing much of the globe, I am currently quite enjoying the unsettled period that has been battering and splattering away at central England over the last few days.

The heavens, laden with so much water, have been immensely beautiful. Watery skies, splashed with all shades of blue and grey and yellow, looking for all the world like swirls of paint freshly washed from heavily-dolloped brushes.

Or the feeling of energy and turmoil that bursts from the clouds during those more turbulent moments. Nature taking its queues from Hollywood blockbusters, leaving you feeling that somewhere the Ark of the Covenant has been opened or that supernatural forces are spewing from a gateway to The Other Side.

Its all so beautiful, and there's nowhere I'd rather be. But then, I am safely closeted away in my nice, warm office...

---
[ Saturday, September 11, 2004 ]
Scarecrow
Starbuck [01:09] Comments: 0 []






---
[ Friday, September 10, 2004 ]
Green Wing
Starbuck [22:43] Comments: 0 [] British residents with nothing better to do on a Friday night at 9.30 - people like me in fact - make sure you're watching

Green Wing

on Channel Four. The best British comedy since the last one. A cross between Scrubs, Spaced, Jam, Teachers, Smack The Pony, Black Books, and, erm, Holby. Though if you've not been watching, you'll have already missed two 65 minute chunks of perfectly-scriped bliss. Fools!

---
Shoddy shoes
Starbuck [15:24] Comments: 0 [] I hate shoes - I'm man enough to say it. And I detest shoe shopping.

Less than two months ago I bought a new pair of "smart" shoes for work, having worn through both soles of my previous pair of several years.

The new shoes were cut-price. Now I know why - they were designed to fail. And today my feet are wet.

I am now experiencing Starship Enterprise-style separation events between both of the heels and the "foot-vessels". The toecaps are irretrievably scuffed so much that they now resemble white plimpsoles. The rubber in the soles is all chipped away at the sides. And both laces have shed their skin, each of the lace's outer casing threading away to leave just the untieable skeletal wires remaining.

The make of the shoes is Coxx - exactly what I feel like for having brought them in the first place.

I reckon that bare-foot-runner Zola Budd had the right idea. I'm going to start toughening my feet up with vinegar and glue, maybe leaving them in the airing cupboard overnight, so that I never have to worry about being shoe-clad again. That'll teach the evil shoe corporations...

---
[ Thursday, September 09, 2004 ]
True Lines
Starbuck [22:09] Comments: 0 [] The Other Half talking in all seriousness about about the possibility of giving me a lift home tomorrow after work:

"I've got a Time Management course in the afternoon, but I don't know when it finishes. Or starts for that matter."
Tee hee!

---
[ Monday, September 06, 2004 ]
Care in the communit-E
Starbuck [21:00] Comments: 0 [] I'd like to publically thank a couple of VSX readers who's recent emails have caused much excited living-room jigging Chez Starbuck.

Firstly, a thousand felicitations to Lawn Greengrass for his honeymoon advice on Kefalonia, following up the whisky-stained enquiries about the island that I'd spewed onto one of his blogs. Although my memories of the original net session are hazy to say the least, I was delighted to get his feedback on this potential honeymoon hotspot.

However, going well and truly beyond the call of duty is NiceGuyUK. Just over a week ago I lamented my lack of success at finding some sort of freeware timer download that would continually recalculate the fraction of the working day still remaining. Desperate, I was...



When NGUK advised he would take up the mantle of coding such a thing, my pulse quickened. And today, when I found that it is finished, I literally wet myself (not literally). His workday remaining calculator

"calculates the percentage of your working day that has elapsed, with configurable start and end times..."



My life is now complete. Now I can watch as hometime gets closer great chunks at a time. Download it for yourself from NiceGuy's blog HERE.

---
[ Sunday, September 05, 2004 ]
Its oh so quiet
Starbuck [18:20] Comments: 0 [] Its been one of those weekends which make you realise the futility of going into work 5 days a week thus ending with you dropping out of society and living in a cardboard box, its been so nice in places.

One of the more enjoyable tasks in organising a wedding is booking the cake, and we spent an hour at Pino and Caroline Iacaruso's beautiful Harbury home (base of their specialist wedding cake company

As You Like It

)to talk and taste ingredients. A lovely couple and some lovely-looking cakes - but for the sake of surprise for the invited, I shall say no more. Suffice to say we're hoping it'll be a little bit special - although Pino has done wedding catering for various highrollers of the British Royal Family in the past, I bet none of them has been so good as to mend his wife's mobile phone for her...

That's enough about my wedding for now. With Co-Editor Stu's wedding being "mega-imminent", these pages are bound to become oversaturated and sopping wet in nuptials before I know it.

Today's relaxational highlight was a lengthy canal walk along unkempt and unspoilt towpath near Napton in Warwickshire. One of those towpaths along the Oxford Canal that is more meadow than pathway, and one that a shirehorse would struggle to actually do any towing on, it being so narrow and overgrown in places. Picture the scene - blazing sunlight, the towpath deserted but the canal busy with passing barges, the hedgerows bristling with berries of all kinds - blackberries, blueberries, elderberries, some funny little red berries that impact against girlfriends' heads very satisfyingly, and those rosehip things that are wickedly itchy when dropped down girlfriends' shirts. Very beautiful and unaffected, a reflection of England hundreds of years back, caught in the backwaters of the space-time continuum.

Anyway, I won't bore you any more with my canal-talk. VSX newbies and part-timers can read some of last year's artificial waterway archives HERE or even HERE.
One of these days I'll actually get a digital camera, and I won't have to string so many words together. As it was, I was scavenging Google Images for a photo to filtch to illustrate this writing, and somehow "Napton" came up with this...


And to complete this thread of relaxation, but not wanting to induce an epidemic of narcolepsy amongst my reader(s), I've only gone and bought Walky Talky by Air (you gotta love them, they've got Pong amongst the other toys on their website) and Medúlla from Bjork. Nurse, the pads!

---
[ Friday, September 03, 2004 ]
Puppy Fat
Stuart [15:46] Comments: 0 [] Hello there. I have not written for ages, for which I apologise (at least to the Top Dog anyhow). I've been busy at work you see, and also with preparing for my mega-imminent wedding! Just over two weeks to go now; I don't quite believe it. And yesterday myself and my future wife received a 'keep it free' card for Starbuck! How brilliant! I have 'kept it free' in the manner of someone not evening registering the date scrawled on the card. However, my trusty social secretary will do the honours in that regard, and tell me a few weeks before when the big day is. There is much nuptial-based excitement all round!

Anyway, what else is new? Prodigy album - it's not all that. I Robot - that's better than I expected. You cannae deny, Blade Runner comparisons noted, that some of it was more inventive and intelligent than most blockbusters. What about all the old robots in their metal crates? Very good! (but a bit stupid - why not just mash them?) I'm seeing Embrace tonight. The last gig before the wedding. The last gig before I'm a husband! Ha, how weird. (Christ aren't married types simply PAINFUL?)

The first gig I'll be going to AFTER being married is Motorhead, which I think is fitting in an oldest swinger in town kinda way. Hopefully Lemmy will 'Shake My Blood' - ooh ha ha, Probot reference.

I saw Jesu, the new band from Mr Godflesh (R.I.P) which was very disappointing as the sound was bad and they had technical problems. But I bought the EP (available now) and it's REALLY good. Two twenty minute songs that are actually (dare I say, at the risk of sounding like Starbuck)...quite beautiful. In places. In other places they're quite horrible. But I played one to Kathryn last nighht and she sat through it without ripping the cables from the speakers, which is heartening. She was drunk though.

Sigh. What's it all about eh?

---
Polistics
Starbuck [14:01] Comments: 0 [] Knowing that not everyone shares the same beliefs as me, I try to hold myself back from being too politically evangelical on this site, though God knows I despise the worst traits of rightwing conservatism. And although a good proportion of Americans live in happy ignorance, blinded by the fog of hype and propaganda that Karl Rove and his cronies churn out out, I mustn't condescend a nation by ignoring that there ARE good people on the left who question the lies to the right (for example, the Bush Lies blog please take a bow).

I love America as a place and on the whole I love the American people. Maybe that is why it hurts to see them being so cynically maniupulated - if only they could see their reality the way that most of the world can. Notwithstanding the danger and damage that a rogue administration brings to this world of ours.

I guess that we are pretty much all cynically manipulated, wherever we live. Its just that a lot of peoples aren't so fiercely dependent on their fix of patriotism and self-belief. Its the American Way that magnifies the problem.

I only write all this right now having been spurred on by something that was on the front page (and much of the inside) of the Independent newspaper today - Bush By Numbers: Four Years of Double Standards (an extract from Graydon Carter's "What We've Lost"), which indisputably makes clear the truth of what the Bush administration is all about in a list of 200 numerical facts. It may be a long list and you may have heard a lot of it before, but persevere. Its the weight of the thing that hits you.


But that's enough "serious stuff" for now. Let me tell you about what's been on my internal jukebox today. Its something that my sadistic subconscious has dreamt up -

"Philip Schofield and his amazing technicolour head-coat"

(with apologies to Andrew Lloyd Webber). "It was red and yellow and green and brown and scarlet and black and ocher and peach..." There, isn't that better?


---
[ Thursday, September 02, 2004 ]
Knoblogging
Starbuck [19:38] Comments: 0 [] Sometimes I am extremely glad that I don't have the opportunity to email blog entries from my nk402 mobile phone.

Otherwise you'd now be reading bilge written from a Tesco carpark such as

"Spiders. They think they're so clever. Or they would if they could think rather than just react to stimuli. Reweaving their webs on my car's wingmirrors every single day. I can see them. One arthropod on each side. When are these little parasites going to realise that we're not living a symbiotic relationship here. Well, just you wait, little spiders - when I get on the motorway, I'm going to blow you arachnid muthas right away..."



Thank the heavens for small mercies, appreciators of fine writing!

---
The Return
Starbuck [08:59] Comments: 0 [] I woke up this morning feeling changed, different. Although I can't remember any dreams from last night as such, I can feel their echoes. I feel strengthened, fortified by my night-time processing.

I went to see Andrei Zvyagintsev's The Return (Vozvrashcheniye in its native Russian) at my local Arts Centre cinema last night. Its not unusual that I get carried away by a film - I must've completed a Degree in Enthusiasm in my former life - but this really was a masterpiece.

A simple story - two young boys regain their father after 12 years absence, father takes them on a trip across road and placid lake, ending on a deserted island.

But the raw, true-to-life emotions on display, painted on a stunningly-photographed canvas of Russian wildnerness, made this cinematic work of art really get inside of my head as well as my heart. Although my heart bled with the pain of the trauma that was depicted, my head was alive with the awesome beauty of what was on the screen - like Touching The Void, it was a film which would lose much of its worth on the small screen, with its sweeping endless landscapes and surrounding soundscapes. It's like there was a free holiday included with every ticket - I actually now feel that I have visited Russia, Lake Lagoda still being freshly on my synapses. And it was fascinating to see a whole new Russia, one far removed from the stereotypes of Siberia-and-brown-concrete that I've built up over the years.

But what the film did most was reinforce what I already believed - even in tragedy there can be beauty. Maybe its just the way that I've learned to deal with life. But when you look back at your darker hours months or years down the line, what you most recall is the beauty of the things around you. As the ragged traumatic emotions begin to fade, the magnificence of what was in your periphary crystallises out.

---
[ Complete Viper Squad Ten blog archives ]
April 2003
/
May 2003
/
June 2003
/
July 2003
/
August 2003
/
September 2003
/
October 2003
/
November 2003
/
December 2003
/
January 2004
/
February 2004
/
March 2004
/
April 2004
/
May 2004
/
June 2004
/
July 2004
/
August 2004
/
September 2004
/
October 2004
/
November 2004
/
December 2004
/
January 2005
/
February 2005
/
March 2005
/
April 2005
/
May 2005
/
June 2005
/
July 2005
/
August 2005
/
September 2005
/
October 2005
/
November 2005
/
December 2005
/
January 2006
/
February 2006
/
March 2006
/
April 2006
/
May 2006
/
June 2006
/
July 2006
/
August 2006
/
September 2006
/
October 2006
/
November 2006
/
December 2006
/
January 2007
/
February 2007
/
March 2007
/
April 2007
/
May 2007
/
June 2007
/
July 2007
/
August 2007
/
September 2007
/
October 2007
/
November 2007
/
December 2007
/
January 2008
/
February 2008
/
March 2008
/
June 2008
/
September 2008
/
May 2010
/
June 2010
/
July 2010
/
October 2010
/
November 2010
/
---
[ VSX Latest ]

Photos, vids, webgames, broken links etc.



[ Other blogs, from back when time was endless ]





Regular:


A Girl I Used To Know
Cyber-Satan.com
Diary of a Wages Slave
Doing The Right Thing
Doppleganger
The Frumplingtons
In The Aquarium
Iron Monkey
Mr Biffo's Blog
NiceGuyUK
The Saturnyne's Lounge
Sensei Katana
The Stratford Upon Avon Strumpet
Two Tone



Also:


A Day In Paradise
AfterTheDebauchery
And Then He Said...
Antipasta
The Armstrongs
Autoblography
Background Noise
Boing boing
Boopses
Captain Fishcake
Chilli and Crackers
Confessions Of A G33K
Deus Ex Machina
Groovymother
Keelhauling
Memepool
Open Book
Planet Maffydoo
Random Acts of Reality
Retro Remakes
Richard Herring
Sensitive Light
Shuffling Chunks
Snowbabies
Travelkev
random blo.gs
random Blogger



[ Photowankery ]







[ Censorship ]







[ Blog admin ]



« Obscure Logs »




[ VSX Latest ]